2022 Vintervinner (Bergen)
På denne siden finner du all relevant informasjon om utstillingen i Bergen.
---
Vintervinner 2022
Dato: 02.04.22
Dommer: Dean Cund (Chelmbull, UK)
Sted: Frøyhallen, Bergen
Påmeldingsfrist: 07.03.22 / Utsatt 14.03.22
Påmelding via NKK: https://www.nkk.no/terminliste-utstilling/category860.html

---
Resultater:

Best In Show: Daintydiamond's Freudian Slip
Reserve Best in Show: Daintydiamond's Pardon My French


Best In Show Junior: Stavenstaff's X Knows @ Soulstealer
r.BIS Junior: Stavenstaff's Van Gogh
Best In Show Unghund: Daintydiamond's Pardon My French
r.BIS Unghund: Daintydiamond's Wild Frontier
Best in Show Veteran: Wiped Out Pokerface
Best In Show Valp: Spot on Staffords Bonita
r.BIS Valp: Unite With Spot OnFamilyBullezBuzzy
Best In Show Oppdretter: Daintydiamond
Full resultatliste finner du her:
---
Sponsorer:
Rosett og Pokal spons ser du på denne listen: https://docs.google.com/spreadsheets/d/1RTA39A6KnaOUVwzuHyhz0IBVciPWx__LiHYbmiM2ZnM/edit#gid=0
Premiesponsorer: My Furbaby, ACANA, LykkeLita Design - Hund & Utstyr, Lørenskog Dyrebutikk, Boken om Staffordshire Bull Terrier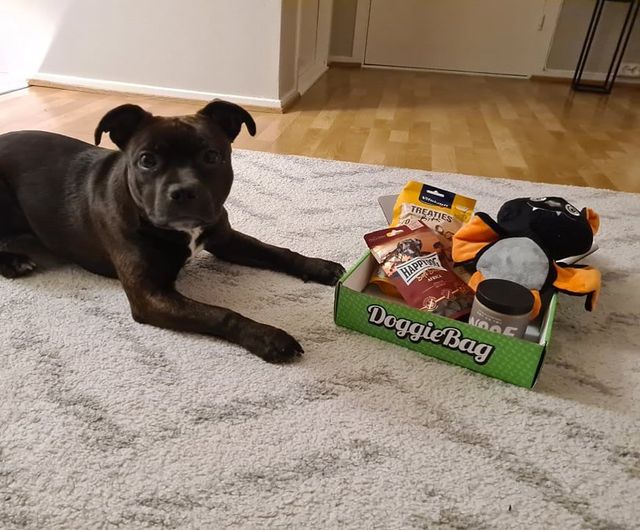 ---
Bilder: Se flere bilder i Rasegruppens facebook album her (klikk)

---
Dommerpresentasjon:
I first started showings staffords in the early 80's and my love for this wonderful breed has never wavered. In the 30 plus years of showing I've made up a number of champions in the breed, my first being Ch Boldbull Black Jack quickly followed by my first home bred champion bitch, Ch Chelmstaff Christmas Joy Ramshire.
Several others were to follow, the most famous one being Ch Dare To Dream winner of 20 CCs & 19 RCCs, she was top UK stafford for the 3 years she was shown. We currently have a young male that we plan to show next year out of our last Champion bitch my daughter made up, Ch Tusslestaff Black Diamond at Chelmbull. We also show Boston terriers & French Bulldogs.
This year our home bred French Bulldog male Ch Chelmbull The Aviator won his 37th CC making him the new Breed Record Holder and his son Chelmbull Rocket Man made Breed history also being the first French Bulldog in History to win BIS at a all breed championship show long with 6 CCs all while still a puppy. I have had the pleasure & honour to have been invited to judge staffords all over Europe and across the Globe Namely, Australia, New Zealand, South Africa, USA to name but a few. I've judged on numerous occasions in the UK & Ireland and have had the honour to have at the two most prestigious shows in the UK being National Terrier and the ultimate one Crufts in 2017. I feel highly honoured to have been invited to judge at the first Championship breed club show in your country being part of breed history is a very special honour indeed and one I'm looking forward to immensely.
---
Annonse:

---
Overnattingsmuligheter:
Rasegruppen for SBT har fått til en avtale med Quality Hotel Edvart Grieg og kan tilby overnatting til følgende priser.
Enkeltrom 649,-
Dobbeltrom (dobbeltseng) 818,-
Dobbeltrom (enkeltsenger) 918,-
Trippeltrom 1017,-
4-mannsrom 1240,-
Hotellet ligger ca 15 minutter fra Frøyahallen
Hotellbestilling gjøres via denne epost adressen: q.bergen@choice.no - hvor du opplyser om bookingkode: 16917
*Enhver har selv ansvar for oppfølging- og betaling av booking.
---